About the Delco Counts 2020 Action Fund
The Delco Counts 2020 Action Fund is a partnership between The Foundation for Delaware County and Philanthropy Network Greater Philadelphia (Philanthropy Network). It was created to support Delaware County organizations in promoting a complete and accurate count of all residents in the upcoming 2020 Census.
The fund will provide grants up to $5,000 and in certain circumstances above $5,000 to nonprofit community-based organizations with 501(c)(3) tax exempt status that agree to advance the work of the 2020 Census in neighborhoods that are identified to be at risk of being undercounted.
News
---
Grant Management
All grant management for the Delco Counts 2020 Action Fund is being done through The Foundation for Delaware County. The Foundation for Delaware County has contracted Philanthropy Network to provide back office services for Delco Counts 2020. Philanthropy Network is being paid a 2% fee for this service.
Overview of Grant Opportunity
The Delco Counts 2020 Action Fund will consider proposals that meet the following criteria:
Proposals should promote census awareness and completion in a hard to count community within Philadelphia. Examples include:
> Alleviating language barriers in promoting census awareness and completion
> Building trust in communities regarding protected Census data
> Unique marketing campaigns designed to encourage Census participation
> Building organizational capacity through technology and training
Typical grant requests will be between $500 and $5,000. Higher grant requests will be considered on a case-by-case basis.
Grant Eligibility and Timeline
To be eligible for a grant from Delco Counts 2020 Action Fund, applying organizations must meet the following criteria:
Organizations applying for grants must be based in and primarily serve Delaware county
The application must be for a grant that will be fully spent by July 31, 2020
If awarded funding, the organization must agree to complete a grant completion report and potentially a presentation to the Delco Counts 2020 Corporate and Philanthropy subcommittee
Funding will not be approved for general operating costs; only project-specific support is available through this fund
Applicants must have a 501(c)(3) tax-exempt status
Applications will be accepted on a rolling basis and reviewed by the committee every other month.
 **Please Note: All grants are subject to fund availability. There may be times when applications are held until a subsequent round as funds become available**
To Apply
Applications may be submitted by 5:00 PM on the following dates. Applicants will be notified within three weeks of a completed application.
Monday, January 6, 2020
Wednesday, March 4, 2020
Wednesday, April 29, 2020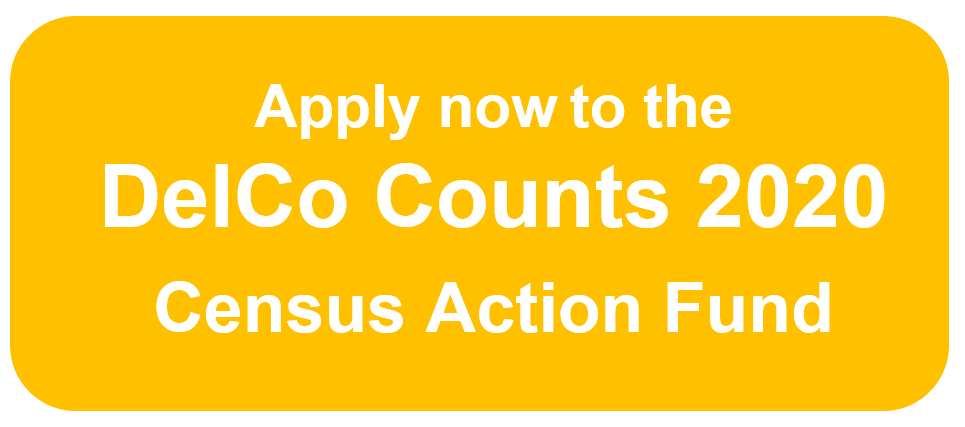 Please email info@delcofoundation.org or call 610-744-1010.