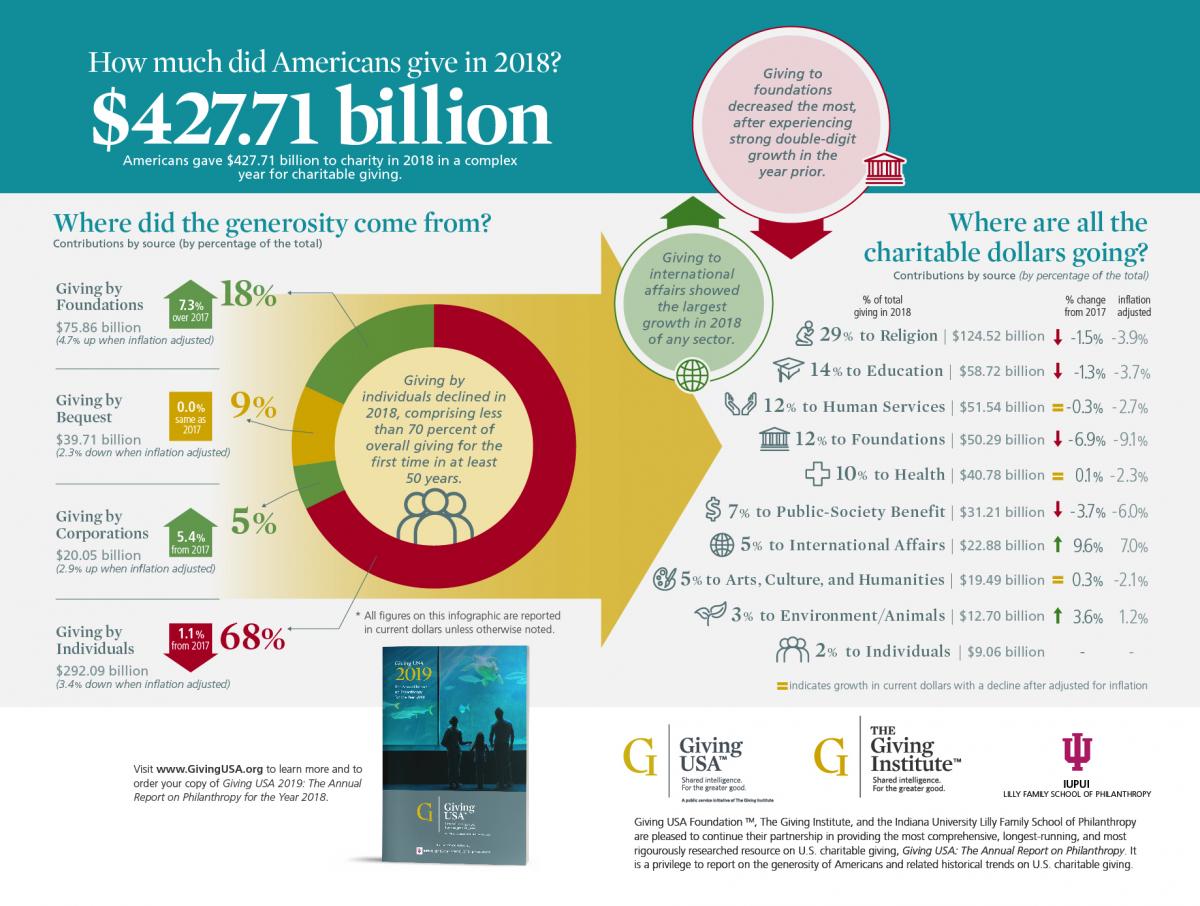 Philanthropy plays a vital role in the health and vitality of our region and our nation. By working together with nonprofits, businesses and government, philanthropy improves community conditions and contributes to civic life and leadership through the responsible use of collective assets, networks, research, voice and advocacy.
Organized philanthropy has grown dramatically over the past few decades. As the number of private foundations increases, the ways people give are diversifying. Significant developments include the creation of charitable gift funds operated by large financial institutions; the rapid growth of donor-advised funds at community foundations; the popularity of online giving and use of social media to support causes; the expansion of pooled funds such as giving circles; and an inceasing interest in impact and mission-aligned investing. 
While organized philanthropy continues to grow and adapt to ever-changing social and economic trends, it is important to note that contributions by individuals remain by far the single largest source of charitable dollars in the United States. According to Giving USA, individual giving combined with bequests consistently accounts for more than three-quarters of total charitable giving each year.
Unlike tax dollars, philanthropy has greater flexibility to fund innovation, risk and creativity, and to advocate for social change, making it an important and unique component of our community's fabric.
Giving Trends
Trust-based philanthropy
Many acknowledge that the prevailing power dynamic between funders and grantees can be a barrier to impact. Trust-based philanthropy attempts to break down the traditional power dynamic and create a collaborative environment that supports listening, learning and the ability to be nimble. Pioneered by The Whitman Institute, the model is based on the belief that  efforts to create social, political, and economic equity will be more successful if philanthropy embeds trust, dialogue, and relationship-building in its practices with grantees. 
Impact Investing
Impact investments are made into companies, organizations, and funds with the intention to generate social and environmental impact alongside a financial return. In philanthropy, impact investing cover two distinct categories of investments: Market-rate mission investments, also known as "mission-related investments," are part of a foundation's endowment and have a positive social or environmental impact while contributing to the foundation's long-term financial stability and growth. Below-market mission investments, also known as "program-related investments" or "PRIs" are designed to achieve specific program objectives while they may earn a below-market financial return.
Visit Mission Investors Exchange and the Global Impact Investors Network (GIIN) to find out how leading foundations are engaging in impact investing.
Crowdsourced Funding
Crowdfunding has its origins in the concept of crowdsourcing, where ideas are solicited from a large group of people, often via an online community. Crowdfunding applies this concept to fundraising by collecting small contributions from many parties in order to finance a particular project.
Popular crowdfunding sites include Kickstarter, Indiegogo, and GoFundMe.
Collective Impact
The idea of Collective Impact advances the theory that no organization acting alone can solve large-scale issues. Beyond mere collaboration, collective impact describes a rigorous approach incorporating five critical elements that, together, can leverage deep and lasting social change. FSG's researchers first introduced the concept in 2011 and continue to study the strategy. They have created an online knowledge exchange to share tools and stories of collective impact in action.
To learn more, visit the Collective Impact Forum.
Giving Circles
Over the past decade, giving circles have emerged as a new and growing trend in hands-on philanthropy. Giving circles are formed when individuals—often friends, neighbors or co-workers—come together around a common cause and pool their charitable dollars to have greater impact. Visit the website of Philanthropy Network member Impact100 Philadelphia [Link to relevant page] for an example of a giving circle in action. 
For additional information, visit the United Philanthropy Forum.
Giving While Living
Individuals and families who subscribe to the philosophy of "Giving While Living" choose to devote their funds—and often their time as well—to charitable causes during their lifetime instead of bequeathing funds to a foundation or charity after their death. Many donors find this approach yields enormous benefits and satisfaction, allowing them to experience first-hand the impact of their gifts.
Read Global Trends and Strategic Time Horizons in Family Philanthropy 2020 from Rockefeller Philanthropy Advisors and Campden Wealth, and the The Atlantic Philanthropies' report on Giving While Living.
Disaster Grantmaking
Recent years have seen an exceptional number of disasters that have garnered the world's attention, as well as their dollars. Starting with the September 11 terrorist attacks in 2001, followed by the Asian Tsunami, Hurricane Katrina, and more recently the devastation caused by Hurricanes Sandy and Maria, both individuals and institutions worldwide have made unprecedented donations for relief and recovery efforts. 
To learn more about best practices for disaster grantmaking, visit the Center for Disaster Philanthropy.
Scaling Impact
Groups like the Growth Philanthropy Network (GPN) have pioneered efforts to find and finance projects that have a proven track record of success. GPN's Social Impact Exchange is building a "philanthropic capital marketplace" that seeks to provide reliable funding for scaling high-impact nonprofit initiatives.
Read the Stanford Social Innovation Review article, From Scaling Impact to Impact at Scale
Technology and Social Networking
As the world becomes increasingly dependent on technology, people are finding new and creative ways to both raise and donate funds through web-based tools. Online charity search sites and giving portals, mobile devices as a new "channel" for giving, and peer-to-peer fundraising through social networking sites are just a few examples of how technology is transforming how we give.