WEST CHESTER, PA (July 8, 2019) – The Chester County Fund for Women and Girls (CCFWG) has awarded $217,000 in grants to 27 non-profit organizations serving the needs of women and girls throughout Chester County.
Nearly 100 community members, grantee partners, and CCFWG Board and committee members gathered at the General Warren Inne on June 18th for CCFWG's 2019 Grants Celebration honoring the hard work and dedication of this year's grantees. Christine Zaccarelli, CEO of The Crime Victims' Center of Chester County, Inc., shared stories of brave female survivors finally finding their voice in the aftermath of trauma; Jill Laufenberg, Executive Director at Wings for Success, shared a heartwarming story from a client who received free styling services and a renewed sense of confidence in preparation for a big job interview; and Lisa Gall and Amy Perez of Mighty Writers spoke about how the Kennett Square community has embraced their efforts to establish new programming aimed at helping girls in need write with clarity and grow in confidence.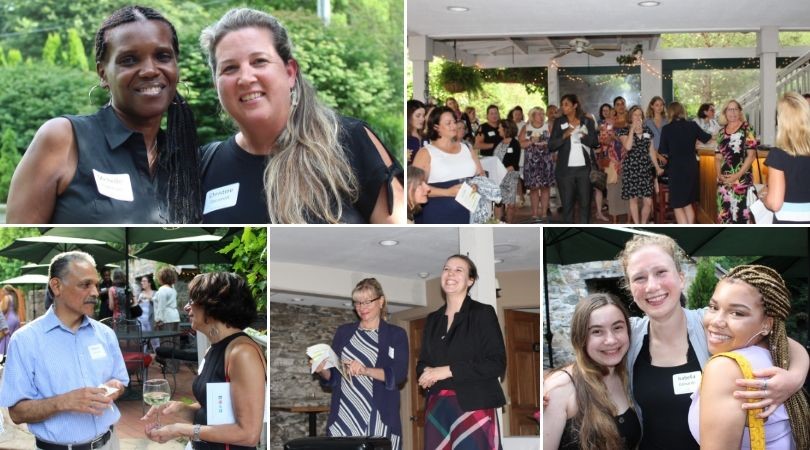 Top left: Grant recipients Michele Roberson of the Bianca Nikol Merge with Mercy Foundation and Christine Zaccarelli of The Crime Victims' Center of Chester County, Inc., connected at CCFWG's Grants Celebration. Top right: Community supporters gathered at General Warren Inne to honor this year's grantees. Bottom left: Grants Allocation Committee (GAC) members Miguel Ceballos and Terri Ann DiJulio caught up at the celebration. Bottom center: GAC Committee members Caryn Fallon and Angel VanBennekom reflected on their experiences serving women and girls in Chester County. Bottom right, L-R: Girls Advisory Board (GAB) members Aleta Ross, Isabella Gilmartin and Alessandra Bielli represented the GAB Class of 2018.
For the second year in a row, CCFWG awarded two-year sustained funding to three Chester County organizations: Mighty Writers, YoungMoms and The Clinic. Additional funding was awarded through 'Moving Her Forward' Impact Grants, a grantmaking program established last year to focus on swift responses to pressing needs in the community. This year's Impact Grants were awarded to the Bianca Nikol Merge with Mercy Foundation, which received $4,500 to launch a local grief support group for family members of victims lost to acts of violence; Black Women of Chester County in Action (BWCCA) received $8,000 to support leadership development and recruitment, as well as promote self-care through its already established AYA Health Project; Chester County OIC was awarded $5,000 to implement changes to its Nurse Aide Training Program to better set students up for career advancement in the field; and the Chester County Women's Commission received $2,500 to fund a survey on the prevalence of sexual harassment and assault in Chester County workplaces.
"Whether as a grantee, a volunteer or a supporter, being engaged in CCFWG's grantmaking experience takes bravery. Once you are part of this journey with us and become aware of the needs in our community, you can no longer stand on the sidelines. It takes bravery, boldness and trust to move forward and be part of the solution," said Michelle Legaspi Sánchez, Executive Director, in response to the event's theme of "Be Brave."
To date, CCFWG has directed over $3.2 million to 72 non-profit organizations to strategically address persisting needs, including homelessness, domestic violence and women's health. Through its inclusive and community-driven process, CCFWG continues to lead and unite the community through philanthropy and advocacy to ensure that women and girls have resources and opportunities to thrive.
We want to thank our grantees and the members of our Grants Allocation Committee – Karen Brindisi, Miguel Ceballos, Maxine Cuffe, Joanne Curley, Terri Ann DiJulio, Olivia Diming, Caryn Fallon, Connie Fogarty, Sara Hejazi, Bill Morrow, Angie Poulin, Deepak Rajpal, Glen Reyburn, Brittney Richardson, Kayleigh Streit, Yolanda Van de Krol, and Angel VanBennekom – for their dedication to improving the lives of women and girls in Chester County. See a full list of our grantees to date here.
***
The Chester County Fund for Women and Girls is a grantmaking and education foundation dedicated to addressing the needs of women and girls in the county. For more than 20 years, CCFWG has raised awareness about the critical needs of women and girls, and has awarded over $3.2 million to 72 non-profit organizations. To learn more about the Chester County Fund for Women and Girls, visit www.ccwomenandgirls.org.