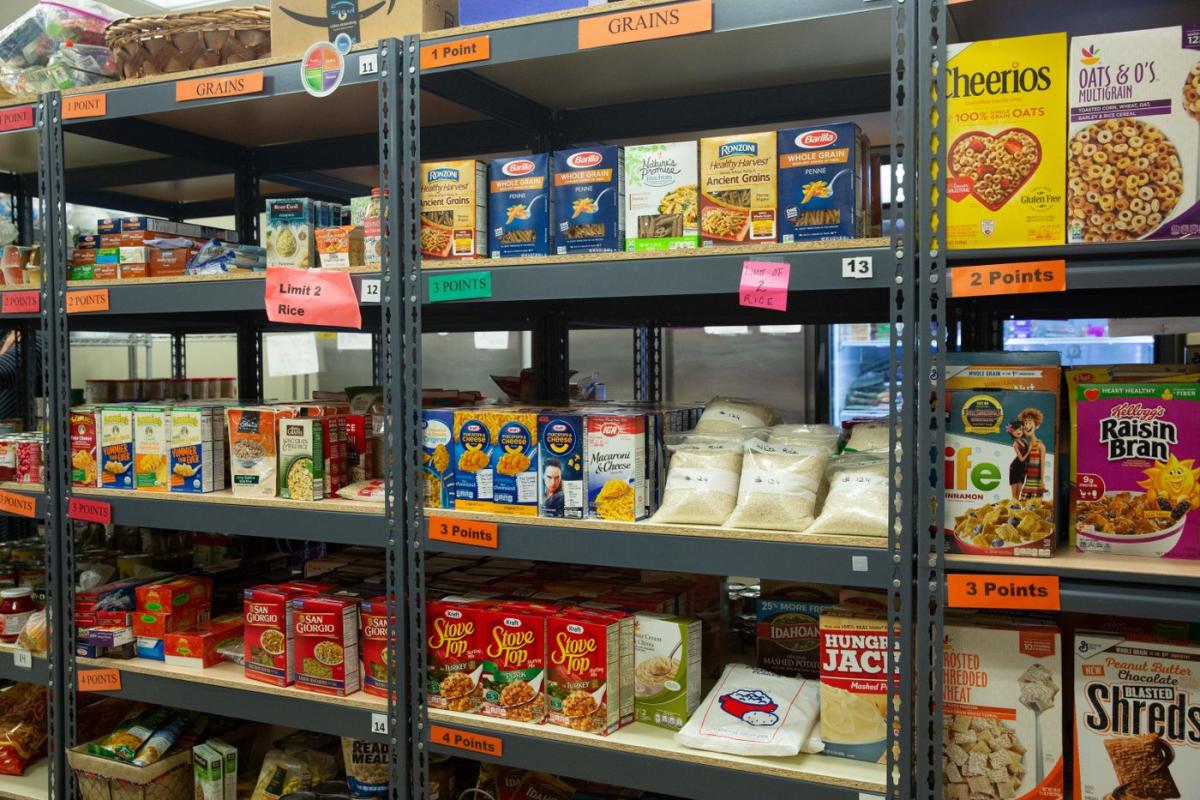 How do you serve hungry people who cannot get to a food pantry? Stu Bush, Executive Director for The Open Link (a HealthSpark Foundation grantee) has long asked that question and thanks to some ingenuity he has a solution:  bring the pantry to them.
Food Pantry Without Walls is a pilot program to deliver food to residents of the Upper Perkiomen Manor, a subsidized senior living facility for low-income seniors in Red Hill, PA. Some seniors have mobility issues, others do not have transportation and public transportation is scarce in this more rural area of Montgomery County. Additionally, the stigma of going into a food pantry likely keeps some seniors from visiting The Open Link's pantry in nearby Pennsburg.
Each month, staff and volunteers assist about 20 households with ordering food online and volunteers spend the morning and early afternoon packing up orders for a mid-afternoon delivery to the housing complex.
Before it could start this pilot, however, The Open Link needed infrastructure support. HealthSpark Foundation awarded The Open Link a grant of $15,000 in November 2017 to purchase SmartChoice, software that tracks their pantry's inventory and allows others to order food remotely. Once the software was installed and tested, The Open Link worked with the Upper Perkiomen Manor and its residents on how to order food.
Manna on Main Street started a similar hub delivery model project with Advanced Living Communities' Schwenckfeld Manor that was profiled in a January 2019 Philadelphia Inquirer article.
In December 2018, HealthSpark Foundation awarded a $50,000 Innovation Lab grant to the MontCo Anti-Hunger Network, in part to learn how each of these pilot projects can further reduce barriers and collaborate with outside partners – such as senior living facilities – to ensure more people in need receive nutritious food.
Innovation Lab grants are part of the foundation's larger Safety Net Resiliency Initiative, a 10-year effort to strengthen the financial resiliency of Montgomery County's safety net system. The idea for the Innovation Lab – sort of a research and development approach for Montgomery County-serving health and human service nonprofits to test ideas – came from organizations that participated in efforts last summer to design innovative efforts to strengthen the safety net.
Innovation Lab pilot or proof of concept projects needed to be relatively small in scale and collaborative; lead applicants must have identified at least one other entity to partner with on the project. A total of 10 organizations received Innovation Lab grants, totaling $316,050. In addition to the MontCo Anti-Hunger Network, the other Innovation Lab grantees are:
Catholic Social Services - $30,000 for People Power, which aims to strengthen the safety net in the Norristown by connecting consumers and nonprofits in new ways.
Center for Positive Aging in Lower Merion - $15,000 to begin an action planning process to create a healthier, more elder-friendly environment in Lower Merion.
Interfaith-Housing Alliance - $15,000 to research and develop recommendations to design and implement a shared housing program for all or parts of Montgomery County.
Montgomery County Opportunities Industrialization - $50,000 to form the Combining Organizations Resources to Enhance Stability (CORES) group that will work together to provide "one-stop" shop for safety net services to individuals who have or are re-entering the community (within 30 days) from the penal system.
Pennsylvania Assistive Technology Foundation - $18,000 to work with the Pennsylvania Health Law Project to develop a toolkit for nonprofits on how best to serve individuals with disabilities.
Philabundance - $50,000 to partner with Habitat for Humanity of Montgomery and Delaware Counties and the Pottstown Cluster of Religious Communities to pilot a collaborative program that seeks to answer if food security can be achieved when combined with other safety net supports such as financial literacy education. 
Pottstown Cluster of Religious Communities - $35,000 to work with Leadership Tri-County of the TriCounty Area Chamber of Commerce to pilot a community leadership volunteer program that connects consumers and nonprofits in new ways.
TriCounty Community Network - $42,400 or a proof of concept pilot that will demonstrate how the business community, educational institutions and nonprofits can collaborate to develop a seamless, shared system that provides a "no wrong door" approach to supporting living wage employment for vulnerable populations in Pottstown.
Your Way Home Montgomery County - $10,150 to advance equitable access to housing and homeless services for Lesbian, Gay, Bisexual, Transgender and Questioning/Queer youth, adults and seniors in Montgomery County. 
Innovation Lab grants are just one element of the larger initiative, which also includes an in-depth capacity building training program, message development around the benefits of a strong safety net system and the creation of a new countywide advocacy coalition to begin to shift conversations about the safety net. The initiative continues to evolve and new elements may be added in future years. HealthSpark provides periodic updates to the community through meetings of its Community of Practice.
But back to Food Pantry Without Walls… The Open Link plans to expand the program to other area organizations that serve seniors and additional locations to begin to remotely serve families with school-aged children.
Additional information on the Safety Net Resiliency Initiative and Innovation Lab grants can be found at www.healthspark.org.
---
Tamela Luce is Senior Program Officer at HealthSpark Foundation based in Colmar, PA.
@TamelaLuceHSF