Press Release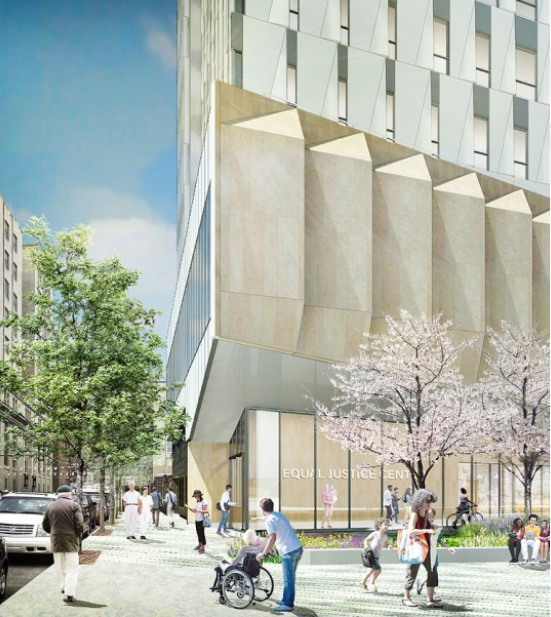 PHILADELPHIA, PA – (March 3, 2019) – The Philadelphia Bar Foundation has secured commitments from many of the city's leading civil legal aid agencies and social-service non-profits to become Member Tenants in a first-of-its-kind collaboration known as the Philadelphia Equal Justice Center (EJC). Construction will begin in 2019 and the EJC will open its doors in 2022.
The Equal Justice Center will be built at 800-30 Vine Street in Philadelphia and will be a permanent and purpose-built location for the city's legal aid community to call home. The EJC will increase access to information and legal aid resources by simplifying the task of finding free or low-cost legal services for all members of the community regardless of an individual or a family's background or financial status. This collaboration will raise the visibility of access to justice issues and position Philadelphia as a leader in the national movement to leverage technology to improve the civil legal justice system while addressing unmet legal needs in order to disrupt the cycle of intergenerational poverty.
In addition to the Philadelphia Bar Foundation, Member Tenants in the EJC include the Center for Advocacy for the Rights and Interests of the Elderly, Community Legal Services, Consumer Bankruptcy Assistance Project, Court Appointed Special Advocates of Philadelphia, Good Shepherd Mediation Program, Pennsylvania American Civil Liberties Union, Pennsylvania Health Law Project, Philadelphia Legal Assistance, Regional Housing Legal Services, SeniorLAW Center, and Women's Law Project. Additional agencies may have a future affiliation with the EJC.
Most of the Member Tenants serve low-income Philadelphians who qualify for legal aid, namely those who live below the poverty line, encompassing more than 25 percent of Philadelphia's population. For these clients, having the ability to address their interlocking legal matters at one location will be life-changing – securing housing, food, education and healthcare assistance, among other critical services. Some Member Tenants provide a diverse range of state-wide legal services through litigation and advocacy. It is anticipated that tens of thousands of people will be served through the work of Member Tenants at the EJC.
The Philadelphia Bar Foundation provides support to these organizations through grantmaking, training programs, fellowships, and assistance for technical and operational issues. Along with others in the Philadelphia legal aid community, Member Tenants have been collaborating for more than 40 years through the Philadelphia Bar Association's Delivery of Legal Services Committee to innovate
ideas for the civil legal needs of the City's most vulnerable citizens. These partnerships have strengthened the collective mission of equal access to justice through direct services and impact and litigation work.
"We are so pleased that this extensive, diverse group of organizations are dedicated to forever changing the face of legal aid in Philadelphia," said Jessica Hilburn-Holmes, Esq., executive director of the Philadelphia Bar Foundation. "The Member Tenant Boards of Directors engaged in vigorous dialog with the EJC project team in order to fully and proactively support this initiative and we are thrilled to have their commitments."
The Equal Justice Center will enable the city's legal aid system to sustain and improve its operations and enhance its ability to meet client needs. EJC Member Tenants' operational costs will be reduced by as much as 20 percent through group purchasing, shared infrastructure, and shared back office operations. These savings may then be allocated to staffing, programs, and client services.
"CLS is proud to be part of this ground-breaking project in Philadelphia," said Debby Freedman, executive director of Community Legal Services.  "The model of the Equal Justice Center will ensure that we are able to meet our client's legal needs with increased efficiency and effectiveness. We are excited to help bring the EJC to life."
Pennrose, LLC is the lead developer on the overall master development and has selected two Philadelphia-based firms for the complex site: WRT as the planning and design firm for architecture and landscape architecture, and INTECH as the general contractor for the EJC. In addition to the Equal Justice Center, the master development will include senior affordable housing, market rate housing, a community park, surface parking, and a hotel.
---
About the Philadelphia Bar Foundation and the Equal Justice Center
The Equal Justice Center (EJC), spearheaded by the Philadelphia Bar Foundation, is setting a new national standard for inter‐agency collaboration, operational efficiency, and client‐centered delivery of free and low-cost legal services. Located at 800-30 Vine Street, the EJC will open in 2022 with numerous public service legal aid agencies and social services organizations. The EJC's shared efficiency model allows peer non-profits to reduce expenses, serve clients effectively, and make better use of resources to provide more services. Learn more at www.philaequaljusticecenter.org.
CONTACT: Laura Powers
lpowers@philabarfoundation.org
215-238-6372
Cell: 215-460-8459