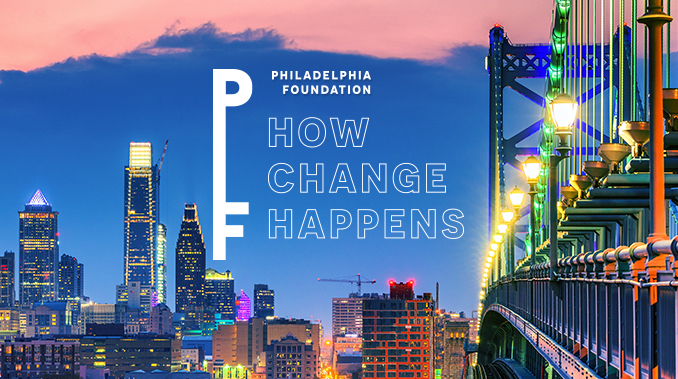 PHILADELPHIA, PA (April 8, 2019) – The Philadelphia Foundation today launched its $1 million Key to Community Grant Program with a request for grant proposals from Greater Philadelphia nonprofits. Ultimately, the general public will select nine winners from a list of published finalists in the categories of Economic Prosperity, the Opportunity Divide, and Community and Civic Engagement.  Philadelphia Foundation aims to accelerate the impact of nine solutions that are working and can be scaled and sustained to meet a significant community need or opportunity.
One of several signature initiatives of the Philadelphia Foundation's centennial year of service, this first-of-its-kind public grantmaking initiative will bring members of the public into the grantmaking process by giving them the opportunity to select nine winners. The application is posted at www.philafound.org/keygrants, and proposals will be accepted through April 29, 2019.
In total, nine grants will be awarded across the three categories: three first-place $200,000 grants, three second-place $100,000 grants and three third-place $33,000 grants. Leaders from the nine finalist organizations will also be invited to participate in the Philadelphia Foundation's Leadership Institute in the fall of 2019 and will be included in opportunities for targeted leadership development scholarships and expanded professional network building. Nonprofit organizations serving Philadelphia, Bucks, Burlington, Camden, Chester, Delaware and Montgomery counties for at least three years are eligible to apply.
After the grant submission period closes, a review panel comprised of Philadelphia Foundation staff, representatives from the grants' co-presenters and independent experts will thoroughly vet each proposal and present the group of finalists from which nine winners will be chosen through public voting. Everyone across the Greater Philadelphia Region will be invited to vote for a winning organization in each of the three grant categories.
"This Key to Community Grant Program, with public participation, is an opportunity to highlight, accelerate and amplify the impact of great organizations in our community and to make the public aware of the power we all have to improve lives by supporting nonprofits in our communities," said Philadelphia Foundation President and CEO Pedro A. Ramos.
Grants will be awarded across three categories:
Economic Prosperity: Co-presented by Wells Fargo and the Philadelphia Foundation, grants will fund programs that aim to enhance paths to financial stability and success, especially for those in low- to moderate-income communities.
The Opportunity Divide: Co-presented by Comcast NBCUniversal and the Philadelphia Foundation, grants will fund programs that improve equal access to the advantages of technology and digital skills that propel economic mobility.
Community and Civic Engagement: Presented by the Philadelphia Foundation, grants will fund programs that aim to widen participation and community connections and increase equity in our region.
The Philadelphia Foundation will hold an online information session for all prospective grantees on April 16, 2019. The deadline for all RFP responses is April 29, 2019. The public voting period will take place between June and July 2019, and grant announcements will be made in late July, 2019.
ABOUT THE PHILADELPHIA FOUNDATION
Founded in 1918, the Philadelphia Foundation strengthens the economic, social and civic vitality of Greater Philadelphia. The Philadelphia Foundation grows effective philanthropic investment, connects individuals and institutions across sectors and geography, and advances civic initiatives through partnerships and collaboration. A publicly supported foundation, the Philadelphia Foundation manages more than 900 charitable funds established by its donors and makes over 1,000 grants and scholarship awards each year. To learn more, visit philafound.org.