Wednesday, April 24, 2019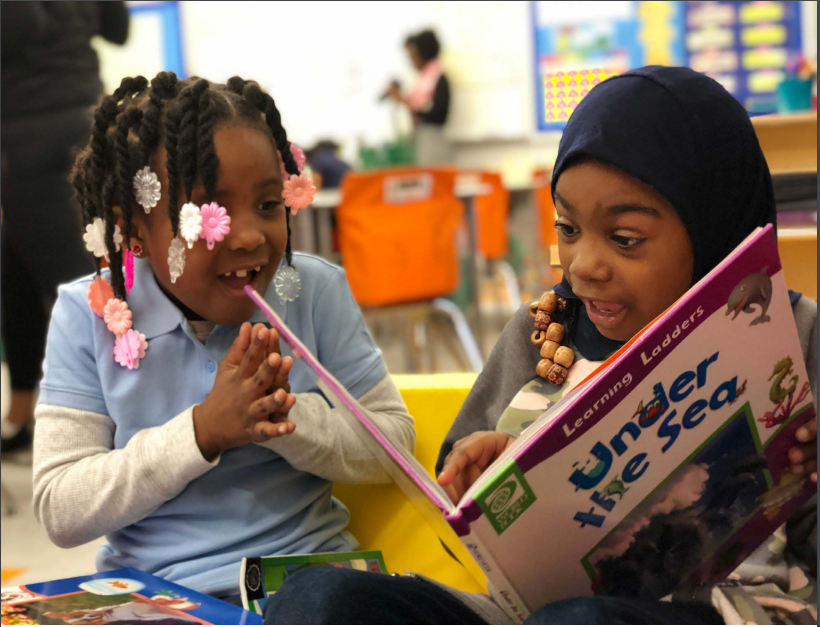 PHILADELPHIA—(April 24, 2019)—The Fund for the School District of Philadelphia has awarded grants to 10 district elementary schools to enhance literacy instruction for students in Kindergarten through third grades. These "Good to Great" grants, ranging in size from $20,000 to nearly $75,000, are funded by the William Penn Foundation. The grants totaled $535,826.
The Good to Great program enhances the District's robust early literacy strategy and supports individual schools in continuously improving their early literacy outcomes through targeted initiatives that meet school-specific needs. Grants are designed to overcome limited resources to help schools tackle challenges faced by specific student populations. The funded initiatives have a particular focus on grade-level proficiency by third grade.
"This remarkable investment in our schools and in our children will add to the progress Dr. Hite and his team have already made," said Donna Frisby-Greenwood, President and CEO of the Fund for the School District of Philadelphia. "The District's early-learning initiative is well under way, and we can expect to see more improvements in grade-level reading proficiency."
Twenty finalists from 78 applications brought forth ideas to take schoolwide literacy progress among its youngest students to the next level using school data, lessons learned, and collaboration with different stakeholders.
"The Fund for the School District of Philadelphia developed this smart new grant program as a way to help schools build on the progress they have already shown in implementing the School District's comprehensive early literacy framework," said Elliot Weinbaum of The William Penn Foundation. "By giving individual schools the resources to implement the specific early literacy intervention that their students most need, these grants will address the diversity and nuances that exist in every classroom and school and certainly within a large urban school system."
Grantees and projects include:
Alexander K. McClure School: Enhance classroom libraries with additional reading collections
F. Amedee Bregy School: Books and resources to build The Nest, a dedicated family library
General George G. Meade School: On-site Professional development, materials, and resources to support the launch of writing workshops for teachers and students
Henry C. Lea School: Enhance classroom libraries with additional reading collections
James Logan School: Books and technology to implement the already-successful 5th grade journalism program in its K-3 curriculum to support writing instruction
John H. Taggart School: Professional development for teachers, and technology and reading resources for English for Speakers of Other Languages classrooms
Lewis Elkin School: Resources and professional development to expand phonics instruction
Olney School: Smartboards for all 11 K-2 classrooms to enhance literacy instruction
Watson Comly School: Work with Columbia Teachers' College for professional development and resources to support teachers in writing instruction
William H. Ziegler School: Support for "100 Book Challenge" program and a library self-checkout kiosk to build a culture of reading
Each school has identified specific outcome goals associated with its project and articulated how those goals will contribute to increases in reading proficiency.
"The William Penn Foundation has supported the District's efforts to strengthen early literacy instruction for several years, and we could not be more grateful for the Foundation's commitment," said Dr. William R. Hite, Superintendent of The School District of Philadelphia.
The grant term runs from April 2019 to August 2020.
---
About The Fund for the School District of Philadelphia
The Fund is a nonprofit connecting the private sector with the Philadelphia school district. We align investing partners - private foundations, corporations and businesses, community organizations and individual donors – with school district leadership to achieve schools' plans and strategies. There are three pillars to what we do: champion strategic priorities, manage funds, and facilitate partnerships. By coordinating these efforts, the Fund helps students in the district succeed and reach their full potential.
About the William Penn Foundation
The William Penn Foundation, founded in 1945 by Otto and Phoebe Haas, is dedicated to improving the quality of life in the Greater Philadelphia region through efforts that increase educational opportunities for children from low-income families, ensure a sustainable environment, foster creativity that enhances civic life, and advance philanthropy in the Philadelphia region. In partnership with others, the Foundation works to advance opportunity, ensure sustainability, and enable effective solutio