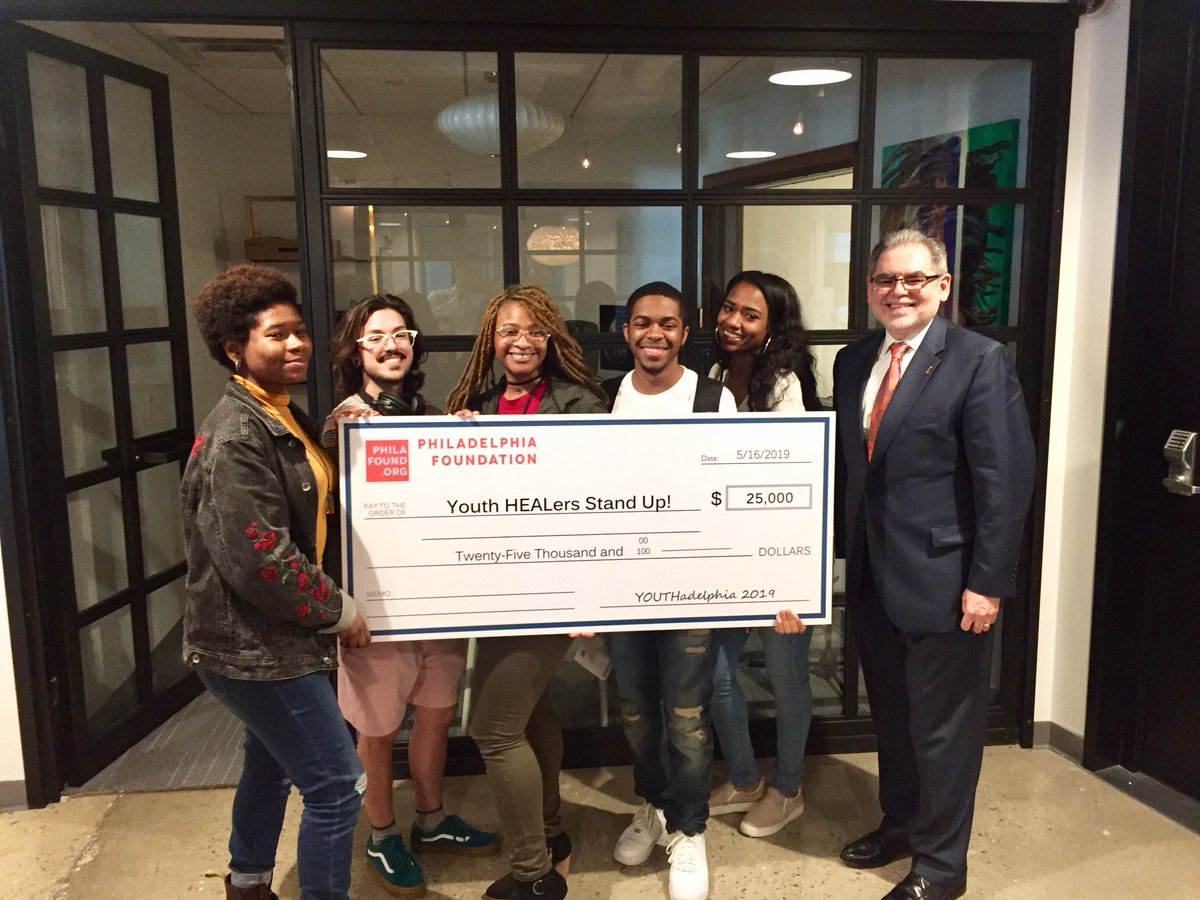 PHILADELPHIA, PA (5/16/2019) –  YOUTHadelphia, the Philadelphia Foundation's Youth-in-Philanthropy Committee, today announced grants totaling $60,000 to be distributed to five nonprofits addressing what they identified as pressing concerns for teens: Youth Leadership, Policing and Gun Violence.
"We're always impressed and inspired by the passion, maturity and commitment that our YOUTHadelphia participants bring to this grant program, which this year included research and exploration of nonprofit finances and outreach," said Pedro A. Ramos, Philadelphia Foundation President & CEO. "We learn so much from the perspectives of these empowered teens and we look forward to seeing them grow as leaders in our community."
This marks the 15th year YOUTHadelphia grants have been distributed, with the total amount awarded more than $1.1 million.
In celebration of Philadelphia Foundation's centennial year of service to the region, a signature $25,000 grant – the largest made in YOUTHadelphia's history – was awarded to Youth HEALers Stand Up. It fights youth homelessness and housing insecurity and operates under the auspices of People's Emergency Center in West Philadelphia. This year, more than 50 participants aged 13-24 will focus on advocacy campaigns, community organizing efforts and workforce development trainings to help them achieve their personal and professional goals.
Also awarded YOUTHadelphia grants are:
Sankofa Community Farm at Bartram's Garden, which received $10,000 in support of its summer internship program that employs 25 students from Southwest Philadelphia. Participants study urban farming, healthy eating, and the production of culturally appropriate food through ecologically sound and sustainable methods. The program also offers leadership skills, mentorship, and intergenerational cross-cultural community-building. Over half of the students continue during the school year for more intensive study; returning interns are eligible for leadership roles and higher wages.
The Youth Art & Self-empowerment Project (YASP), which received $10,000 in support of its youth-led work to end the practice of trying and incarcerating young people as adults. YASP empowers incarcerated and formerly-incarcerated young people through a combination of artistic expression, political education and community organizing. It strives to motivate young people to challenge the laws that led to their incarceration and encourages them to express their voices creatively with the world at large.
Lil' Filmmakers Inc., which received $10,000 in support of its mission is to train young under-served artists to use media and the arts as a tool to overcome societal and personal barriers and prepare them for arts and media careers.
Philadelphia Student Union, which received $5,000 in support of its work with youth on organizing skills, how to engage with police officers and ways to become life-long learners and leaders who can bring diverse groups of people together to address the problems that marginalized communities face.
HOW THE GRANTS WERE AWARDED
The 13 YOUTHadelphia committee participants, a diverse cross-section of teens from 10 public and private schools, met weekly since October to select appropriate grant recipients.
Funding priorities were identified through research conducted with the help of Edwin Mayorga, assistant professor of educational studies at Swarthmore College. The participants received training in financial accountability from Philadelphia Foundation staff members and communications led by Mina Ado, formerly of the Robert Wood Johnson Foundation. They discussed the role of fundraising in philanthropy with youth involved in the Teen Giving Project of the Jewish Federation of Philadelphia. Outreach/recruitment and site visit best practices were introduced by YOUTHadelphia Program Advisor Aurora Sanchez and foundation staffers.
YOUTHadelphia members held an open house at which funding guidelines were explained to potential applicants. They then assessed the eligibility of the 24 applicants to receive charitable dollars and narrowed the initial group to a set of 10 finalists.
The students conducted site visits to learn more about the programs each organization offered. The final determination rested on whether the proposed programs fit the initial criteria the teens had established and the extent to which youth perspectives are included in program development.
YOUTHADELPHIA 2019 MEMBERS
YOUTHadelphia 2019 members include Ahmir Day (Mastery Charter Shoemaker Campus senior), Amelia Dogan (William Penn Charter School senior), Annika Hagen (Central High School freshman), Caitlin Graham (Central High School senior), Christine Fang (Friends Select School junior), Evelyn Juanacio (Arts Academy at Benjamin Rush senior), Horace Ryans III (Science Leadership Academy junior), Lisa Phan (Girard Academy Music Program senior), Luke Macri (St. Joseph's Prep junior), Mahalia Trudeau-Williams (The Crefeld School freshman), N'Dea Jackson (Central High School senior), Taj Walter (Science Leadership Academy sophomore) and Yahnee Acklin (The Philadelphia High School for Girls junior).
---
ABOUT YOUTHADELPHIA AND THE FUND FOR CHILDREN
YOUTHadelphia annually distributes grants from the Fund for Children, which was established through contributions by the Philadelphia Eagles and the Philadelphia Phillies when they built their new stadiums. Grants are made to organizations within the city of Philadelphia serving young people. YOUTHadelphia's mission is to give Philadelphia teens opportunities to build youth leadership through philanthropy.
In addition to YOUTHadelphia, the Fund for Children also provides financial support for strategic investments in youth-led programs, which provide immediate support for community organizations serving children and youth.
ABOUT THE PHILADELPHIA FOUNDATION
Founded in 1918, the Philadelphia Foundation (PF) strengthens the economic, social and civic vitality of Greater Philadelphia. PF grows effective philanthropic investment, connects individuals and institutions across sectors and geography, and advances civic initiatives through partnerships and collaboration. A publicly supported foundation, PF manages more than 900 charitable funds established by its donors and makes over 1,000 grants and scholarship awards each year. To learn more, visit www.philafound.org.